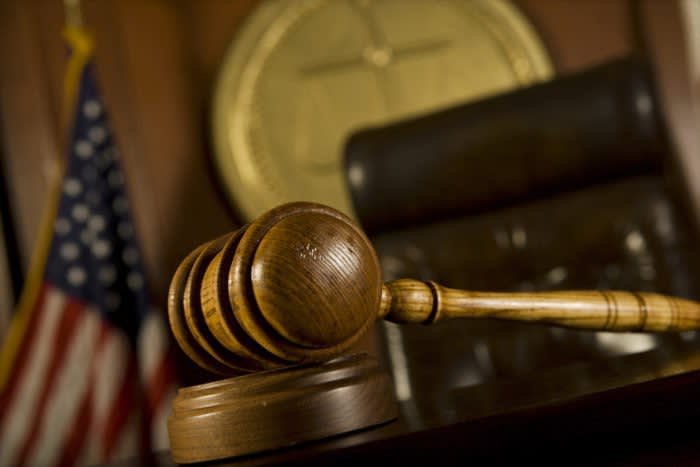 Pittsburgh Judge Dismisses Aggravated Assault Charges Against NFL Player Darrelle Revis
---
NFL player Darrelle Revis avoided jail when a Pittsburgh judge dismissed aggravated assault charges against him. Revis was arrested and charged with assault after he was allegedly involved in a violent fight outside a local Pittsburgh business.
Revis, a star football player for many years in the National Football League (NFL), is currently a free agent after previously playing cornerback for the New York Jets and the New England Patriots. Revis grew up in Pennsylvania, playing high school football at Aliquippa High School and college ball at the University of Pittsburgh.
The former Pittsburgh resident was arrested on February 12 after getting into a dispute with two men who accused him of stealing a cell phone. Revis and some of his friends were outside a restaurant on the South Side of Pittsburgh around 2:30 a.m. when the two men approached and began to argue with him. The verbal altercation turned physical and led to a brawl involving several people. The aftermath of the incident was captured on video and then circulated on the Internet.
The two victims were knocked unconscious in the resulting fight and sustained significant injuries, including concussions. One of the victims also broke his eye socket during the altercation. They later woke up and told Pittsburgh police detectives that Revis assaulted them. Revis was subsequently charged with multiple crimes, including aggravated assault, robbery, and terroristic threats. If convicted of the felony-level offenses, Revis would have faced serious penalties that included prison time.
However, Revis will probably not have to worry about his freedom because a Pittsburgh judge dismissed the charges against him. The judge made the decision after one of Revis' friends, 31-year-old Rashawn Bolton, testified at a preliminary hearing and said that he was the one who threw the punches during the fight and that Revis was merely an innocent bystander. To date, Bolton has not been arrested or charged in connection with the altercation. It is possible that prosecutors believe that Bolton was acting in self-defense and struck the other men in order to protect himself and Revis.
If you have been arrested and charged with assault in Pennsylvania, you need a skilled, aggressive criminal defense attorney representing you throughout the legal process. The experienced criminal defense lawyers at the Law Offices of James Crosby will help you fight your charges. Contact us anytime to schedule a consultation.